Mu
RICHARD PINHAS & BARRY CLEVELAND [FT. MICHAEL MANRING & CELSO ALBERTI]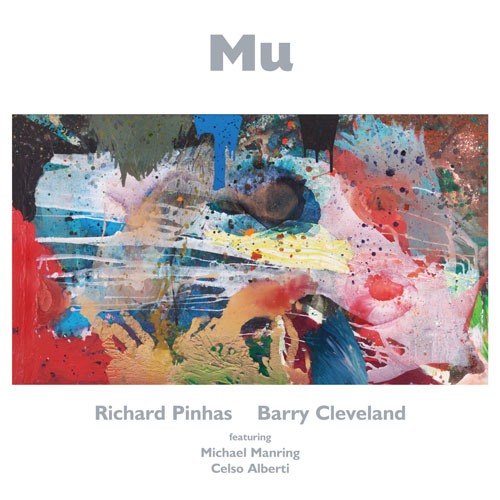 One day a troubled monk approached Joshu, a renowned Chinese Zen master, intending to ask him for guidance. A dog walked by and the monk asked Joshu, "Has that dog a Buddha Nature or not?" The monk had barely completed his question when Joshu shouted: "Mu!"

Mu is often translated as "nothingness," but as the response in Zen's most famous koan, the gesture speaks to a truth deeper than rational dualistic thinking can obtain—therefore also resonating with the creative mindset accompanying the purest forms of musical improvisation.

The music created by French guitar iconoclast and electronic music pioneer Richard Pinhas and insistently inventive San Francisco Bay Area guitarist Barry Cleveland on Mu originated in just such a way, arising seemingly from "nothingness." The two had contemplated performing as well as recording together for several years before their stars finally aligned, and they played several Bay Area shows during the same period that Mu was recorded.

Unfettered by genre conventions, Mu is a mesmerizing combination of entirely improvised music and Cleveland's post-production compositional development. The four long pieces unfurl as a confluence of overlapping musical currents informed by art rock, ambient, electronic, avant-garde jazz, and various "world" music inflections. Joined by two longtime Cleveland collaborators—electric bass innovator Michael Manring and Brazilian-born drum master Celso Alberti — these expansive and timeless soundscapes will have definite appeal to fans of artists like Jon Hassell, Arve Henriksen, Nils Petter Molvær, Bill Laswell, David Torn, Brian Eno, David Sylvian and David Bowie.

Pinhas' distinctive musical aesthetic is facilitated by his Metatronic live-looping and effects system that enables him to create an astonishing variety of tones and textures and layer them into continually changing stream-of-consciousness soundscapes. His approach on Mu was especially dynamic. "Besides opening up fresh sonic horizons himself, Richard did an impressive job of responding to the rapid shifts in tempo, tonality, and intensity of the quartet, which is far from easy when using a looping system such as his," explains Cleveland.

Cleveland's aesthetic is equally sui generis. In addition to playing guitar in the conventional manner he plays with a bow, a bowhammer, an Ebow, and other devices, as well as using sophisticated electronics and looping to access intriguing new aural realms.

In bringing together this singular quartet, Cleveland and Pinhas take another bold step with Mu. Given their long histories of innovation and experimentation it shouldn't be surprising to find them venturing into the unknown. But there's still something inspiring about witnessing veteran artists willing to follow a thread of inspiration into the void, only to emerge with new revelations. "In many ways," says Cleveland, "this album represents the culmination of concepts and techniques I've been developing my entire life."
Process and Reality
RICHARD PINHAS / TATSUYA YOSHIDA / MASAMI AKITA [MERZBOW]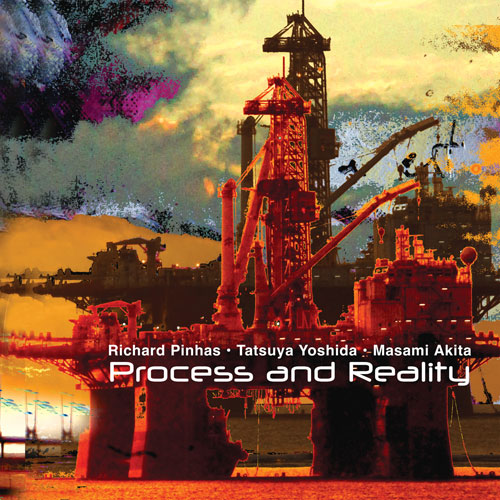 Three founding fathers of experimental music join forces to conjure an unholy serenade for a society on the verge of collapse on Process and Reality, an hourlong whirlwind of pessimistic prophecy transformed into a heady monolith of sound.

Boundary-stretching guitarist Richard Pinhas, founder of the influential French electronic-rock band Heldon, teams with two icons of the Japanese avant-garde – drummer Tatsuya Yoshida, mastermind of warped-prog legends Ruins, Koenjihyakkei and Korekyojinn, and Masami Akita, a.k.a. noise guru Merzbow – to summon a brutally honest, politically potent, sonically tumultuous reflection of the last gasps of the industrial age.

Process and Reality marks the first recorded convergence of these three avant-rock giants, though Pinhas has recorded with both Yoshida and Merzbow in the past and all three have toured extensively together in Japan. The album, recorded in Tokyo during a recent high-profile tour, captures the fevered intensity and violently textured depth of the trio's collaborative improvisations.

Pinhas' aggressive, combustible music has always been honed to a keen edge by its philosophical bent. Process and Reality takes its name from an influential 1929 book by English mathematician and philosopher Alfred North Whitehead, which posits reality as a continual process of becoming. That's an apt summation of the music made by Pinhas, Yoshida and Akita, which seethes and roils in a constant state of both turbulent flux and visceral realization. The guitarist says of his collaborators, "They explore 100% of their possibility. We have the same kind of spirit."

The bleak outlook embodied by the music on Process and Reality is stunningly pictured in cover art worthy of a cyberpunk novel, rendering an oil tanker as a surrogate for the decaying post-industrial future. It was created by Patrick Jelin, the gifted designer also responsible for the covers for classic Heldon albums Interface (1977) and Stand By (1979), as well as Pinhas' 1979 solo effort Iceland.

If that's all too downbeat for an evening's listening, Pinhas also sees the album as a celebration of his cherished friendship with these Japanese artists. "Japan is the best scene in the world," he asserts, and while he foresees a radical change in his sound approaching in 2017, he continues that, "Always I will work with my forever friends."
Cantos Invisíveis
SÃO PAULO UNDERGROUND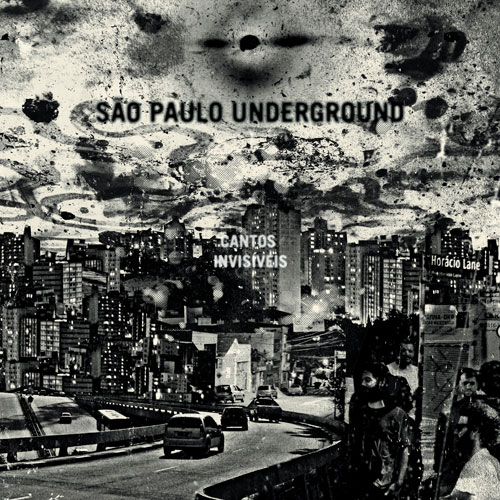 With their breathtaking fifth album Cantos Invisíveis, the multi- national, multi-ethnic, multi-everything São Paulo Underground sounds more confident and intrepid than ever, with a glorious program of music evoking lost haunts, enduring love, and the sheer delirious joy of making music together.

In many ways the music on Cantos Invisíveis is a celebration of camaraderie and the spaces that allow love and friendship to unfurl. Alchemical aural conspirators for some 10 years, the group has developed its own approach to structure, with slippery forms, unabashedly beautiful melodies and lapidary textures laced with disquieting electronica beats and stutter-stepping improvisation. Rather than evoke a particular time and place, the music inhabits multiple planes simultaneously as "a projection of sound that celebrates as well as mourns past, present and future times," Mazurek says. "The vocal quality of this particular music shouts and hollers for love and compassion, the joy and sorrows of life. It's a street parade for everybody."

The experience of listening to Cantos Invisíveis often feels like stepping through the fourth wall, as if you're in the room with the guys, watching the instrumental conversations unfold in real time. The production enhances the intimacy, creating space to enter the music rather than building a protective shell. It's a communion that can only develop "as a result of a lot of beautiful time spent together working on music and ideas and then travelling together playing throughout the world," Takara says. "I think there´s a certain atmosphere that only living and spending time together bring, and the record captures that beautifully.

These singular players create music unlike any other ensemble in São Paulo Underground, which expands into realms seen and unseen on Cantos Invisíveis. The title translates from Portuguese as "invisible corners" or "invisible songs" or "disappearing corners or songs." This music evokes the elusive nature of these songs, "the way we make our music, always masking it in some kind of way, a disappearing through layering and sound manipulation," Mazurek says. "The songs kind of disappear in a way like a cloud of pink in the sky. We create atmospheres that cause form and melody to disappear, and to reappear", so that savvy sound explorers can join São Paulo Underground on an unforgettable journey.
America's National Parks
WADADA LEO SMITH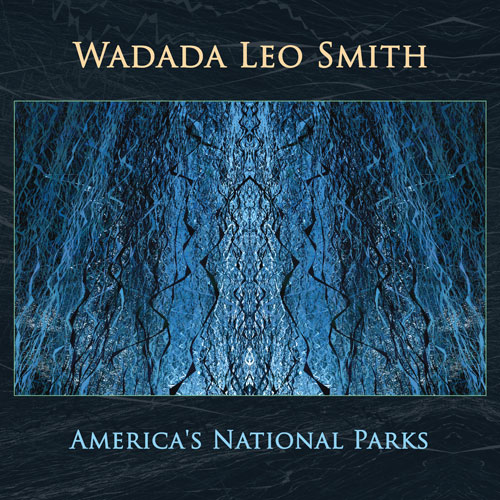 With America's National Parks, visionary composer and trumpeter Wadada Leo Smith offers his latest epic collection, a six-movement suite inspired by the scenic splendor, historic legacy, and political controversies of the country's public landscapes. Writing for his newly expanded Golden Quintet, Smith crafts six extended works that explore, confront and question the preserved natural resources that are considered the most hallowed ground in the U.S. – and some that should be.

America's National Parks was released shortly before Smith's 75th birthday in December, arriving, coincidentally, in the midst of celebrations for the centennial of the National Park Service, which was created by an act of Congress on August 25, 1916. The spark for the project, however, came from two places: Smith's own research into the National Park system, beginning with Yellowstone, the world's first national park; and Ken Burns' 12-hour documentary series The National Parks: America's Best Idea.

"The idea that Ken Burns explored in that documentary was that the grandeur of nature was like a religion or a cathedral," Smith says. "I reject that image because the natural phenomenon in creation, just like man and stars and light and water, is all one thing, just a diffusion of energy. My focus is on the spiritual and psychological dimensions of the idea of setting aside reserves for common property of the American citizens."

His 28-page score for America's National Parks was penned for his Golden Quintet, a fresh reconfiguration of the quartet that's been a keystone of his expression for the last 16 years. Pianist Anthony Davis, bassist John Lindberg and drummer Pheeroan akLaff are joined by cellist Ashley Walters, affording the composer and bandleader new melodic and coloristic possibilities. "The cello as a lead voice with the trumpet is magnificent," Smith says, "but when you look at the possibilities for melodic formation with the trumpet, the cello, the piano and the bass, that's paradise for a composer and for a performer."

While these preserved landscapes offer the inspiration of powerful natural beauty, Smith's always open-minded view of the world leads him to find that same inspiration wherever he is. "Every concrete house is from nature," he says. "Every plastic airplane that flies 300 people across the ocean comes out of nature. Every air conditioner conditions a natural piece of air. I think that the human being is constantly enfolded in organic nature and constructed nature, so I'm constantly inspired, inside the house or outside the house."