ANTHONY PIROG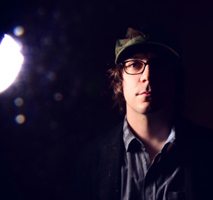 "[Palo Colorado Dream] covers a sprawling musical terrain–avant jazz, atmospheric soundscapes, earthy Americana, math-rock...with an arsenal of effects hardware and studio production techniques..."
– JazzTimes
"So this is what all the fuss is about...Palo Colorado Dream (is)...an ear-opening display of his stunningly wide range of talents."
– All Music Guide
"One of jazz's most reliable conduits to a living, breathing audience is electric-guitar heroism, and Anthony Pirog, from Washington, who has built great chops and technique while remaining fairly little known, seems poised to become a hero of the instrument."
– The New York Times
"A record that's equally capable of enchanting you and pummeling you with many shades of aura in between, Palo Colorado Dream catapults Anthony Pirog into the corps of elite experimental guitarists."
– Something Else Reviews
Washington, D.C.'s jazz and experimental music scenes wouldn't be quite where they are today without Anthony Pirog. The guitarist, composer and loops magician is a quiet but ubiquitous force on stages around his hometown. With fearsome chops and a keen ear for odd beauty, Pirog has helped expand the possibilities of jazz, rock and experimentalism in a town long known for its straight-ahead tradition.
Anthony's roots as a guitarist are in the work of D.C. guitar heroes Danny Gatton and Roy Buchanan, and their virtuosic technique that blended all styles of popular music.
He has taken and built upon those roots, working in straight and experimental jazz, improvisation and electronics/looping, and he somehow takes these styles, all of which he has mastered and makes them all work together and also makes them all his own.
PALO COLORADO DREAM

RUNE 398

Palo Colorado Dream — recorded with the all-star trio of Michael Formanek (ECM solo artist, Tim Berne, Thumbscrew) on bass and Ches Smith (John Zorn, Secret Chiefs 3, Marc Ribot) on drums — is Pirog's debut solo album, and it marks the young innovator's entrance onto the national stage. The album has an immersive depth and understated allure that hold the listener rapt. And they illustrate all the various realms of Pirog's artistry: the spinning fantasy-scape of his loops and the hard-nosed technical power of his soloing, his patience with a slow build and his knack for moments of fierce catharsis.
MEDIA
For press and media: cover art and high resolution images are available below for download (click thumbnail, right-click image and select "Save As.."). Please credit the photographer (when available) and "Courtesy of Cuneiform Records". For more information, click here.
PRESS RELEASES
Palo Colorado Dream press release