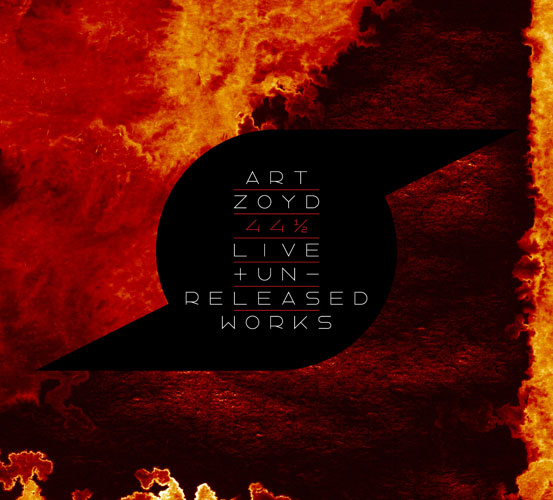 44 1/2: LIVE AND UNRELEASED WORKS
RUNE 450-463
Cuneiform Records and Art Zoyd present Art Zoyd's 44 1/2 : Live and Unreleased Works
A 14-disc Box Set of All Previously Unreleased Recordings

"Art Zoyd is a quartet, but their instrumental arsenal produces the sound of a mighty orchestra."
– The New York Times

"...the uncompromising classic 1982 opus Phase IV is justifiably considered one of the group's peak accomplishments. The Rock in Opposition co-founders marry dark, unsettling atmospherics à la Univers Zero to precise minimalist constructs with hints of Philip Glass or Steve Reich."
– AllMusic

"Art Zoyd...is one of the most important collectives in the world - dangerous and challenging."
– The Absolute Sound

"...a description of Art Zoyd can not be contained in a single adjective."
– New York Post

Originally founded as a psychedelic / progressive rock band in France in 1969, with the arrival of soon-to-be co-leaders Gerard Hourbette and Thierry Zaboitzeff in 1971 and then with the departure of the band's founder, the group radically changed direction. By 1975 they were no longer a 'rock' band with guitars and drums, the band were now a based around the unique sounds of violins, electric bass and cello and trumpet, with additional instrumentation.

In 1976, Art Zoyd released their first album, toured with Magma and within a few years were invited to become one of only eight members of the Rock In Opposition Movement, a musician-led organization of some of the most cutting edge bands from Europe who banded together to increase their opportunities for work.

By the early 1980s, they were touring internationally and were a figurehead of 'new music' or 'avant rock'. Beginning in the mid 80s into the mid 90s, they were at their peak renown, collaborating with choreographer Roland Petit, who commissioned them to work with him on a full ballet: Le Marriage Du Ciel et De L'Enfer (The Marriage Of Heaven & Hell) as well as performing live, self-penned soundtracks to classic silent films such as Nosferatu, Faust and Haxan. Concurrent with this period and their work in ballet and with films, the music shifts towards a more electronic, stripped-down and modern sound during this era.

In 2014, after a period of inactivity, Gerard and Thierry began to speak to each other about the idea of performing some retrospective concerts to celebrate their many achievements and performing as much music from the past as was practical in a concert with as many old collaborators as could be included. The first of these events was held in September 2015 at the Rock In Opposition Festival in Carmaux, France.

This 14-disc set is an outgrowth of the celebration of the decades of Art Zoyd's far-sighted musical work.

Every CD is filled to the bursting with nearly 80' of music. There are basically eight CDs of live recordings stretching from the years 1972-2004 and four CDs of studio recordings, sketches and outtakes from 1980-2005.

Of the two DVDs, one is comprised of historical television appearances from the late 70s into the end of the 80s and the other being the entire performance of their celebration at the RIO Festival.


Here's a small excerpt of the reunion concert DVD:


This is what is included in the box set...
12 CDs featuring:
• Live in Berlin, The Loft (April 1986)
• Häxan, Live in Copenhagen parts 1 & 2, European Capital of Culture (February 1996)
• u•B•I•Q•U•e, Live in Maubeuge, La Luna (January 2000)
• Le mariage du ciel et de l'enfer, Live in Paris parts 1 & 2, with the Ballet National de Marseille (Roland Petit), Théâtre des Champs-Élysées (March 1985)
• Theatre & Live
• LIVE brigades spéciales théâtre de la renaissance Paris (1976)
• LIVE Mons Danses Mécaniques (2000)
• "La Nuit du Jabberwock," with members of Musiques Nouvelles, Live in Armentières, Le Vivat (2002)
• Live in Grenoble, 38èmes Rugissants Festival (1990)
• LIVE GRENOBLE NOSFERATU (1990)
• Live in Maubeuge, Art Zoyd with the Orchestre National de Lille (2000)
• Symphonie pour le jour où brûleront les cités (1975/orch. 2000)
• Live in Mexico, Art Zoyd with the Orquesta Sinfónica del Estado de México (1999)
• Armageddon, actes 2 & 3, Live in Lille (2004)
• Unreleased works
• Globe Arena (1989)
• Musique pour le Six-Centenaire du Beffroi de Bethune (1988)
• Bethune 1789 (1989)
• Les Inattendus de Maubeuge "Spoutnik" (1993)
• Les Trois Mousquetaires
• Flixecourt Tisserands
• La Guerre de Marguerite
• Au nom du Père (1991)
• Malbodium (1987)
• L'étrangleur est derrière vous (1983)
• Terra Terra! (1986)
• Live in Nancy (1975)
• Live in Reims, Maison de la Culture (1980)
• Live performance (excerpt) for Radio Tonkraft, Stockholm (October 3, 1979)
• Marco Polo (1984)

2 DVDs featuring:
• 44 1/2, the birthday concert, Live at Maison de la Musique, Cap'Découverte, Le Garric, France, Rock In Opposition Festival 2015 (September 19, 2015)
• Live in Berlin, Centre Culturel Français de Berlin (April 14–15, 1986)
• Live on Phase IV / FR3 TV, Hôtel de Ville de Maubeuge (December 1982)
• Nosferatu - Teaser (1988)
• Musique pour l'Odyssée / FR3 Nord Picardie TV excerpt (1979)
• Le mariage du ciel et de l'enfer (excerpts) / Antenne 2 TV (1985)

BOXING THE UNBOXABLE: THE OBJET D'ART THAT IS ART ZOYD'S 44 1/2
Conventional music is presented through conventional methods. But when it came to the career chronicle that is Art Zoyd's 44 1/2 box set, the band's iconoclastic approach required an equally forward-looking approach that brings a new meaning to the term "thinking outside the box."

Even beyond the boundary-smashing work that's presented on the set's staggering 12 CDs and two DVDs, the physical package of 44 1/2 in and of itself is an impressive enough achievement to be an objet d'art. A tour de force of graphic design, it was hatched by the expansive mind of the London-based designer Max Franosch.

Franosch is a man who wears many hats—he's a font creator, photographer, and painter as well as a graphic design artist, and he brought his gifts in all of these disciplines to bear in packaging this deep dive into Art Zoyd's heavy-duty history. Franosch's paintings have been seen at galleries all over London; he has published five photo books; his photographs have been featured on album covers for ECM Records, a label renowned for its uncompromising design aesthetic.

In approaching the project, Franosch took as idiosyncratic an approach to his work as the band does to their music. He conceived an ambitious package that incorporates more than fifty pieces of custom-made artwork and utilizes two information-packed booklets to tell Art Zoyd's long, eternally twisting and turning tale. And in case that wasn't enough, he made sure the box for 44 1/2 hosted two eye-catching posters as well.

In keeping with the spirit of the music, the color components Franosch chose for the box alternate between dark and brooding on one end of the visual mood spectrum and fiery and explosive on the other. And while there are photos of the group, 44 1/2 isn't the kind of box set that uses the traditional pictorial paths to get its point across. Instead, Franosch has created his own meta-universe of original graphic elements that strike just the right balance between echoing the spirit of Art Zoyd and providing a potent contrast. And if ever a band crafted a musical universe of their own it's Art Zoyd, so the marriage between band and designer couldn't have been more sympathetically conceived.

Gorgeously designed and conscientiously compiled, Art Zoyd's 44 1/2 is a treasure chest of rare gems that dazzles the senses with both contents and container. As a Boxed/Special Limited Edition Package, it is worthy of widespread recognition, equal in quality and vision to today's best-designed box sets, including Grammy winners. Art Zoyd fans will assuredly cherish this treasure box. But even those with the most conventional music and design sensibilities may be inspired to think "outside the box" and embrace this visionary Art Zoyd artifact, the multi-media objet d'art known simply as 44 1/2.