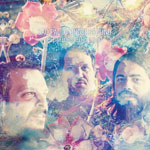 BEIJA FLORS VELHO E SUJO
RUNE 359
"...the results are a mix of electric jazz, minimalism, and Brazilian samba, bossa nova, and street sounds. Percolating textures, crackling cornet (smacking of Miles Davis and Don Cherry), and surreal electronica process local riffs and rhythms for music that dances and frolics with all the joy and cheery chaos of a São Paulo street fair." – Icon

"São Paulo Underground are one mind blowing group and the trio's stature has risen yet another level with the release of their latest full length... This album is huge and one that I think will grab the ears of many different types of people. Tropicalia never sounded this modern and alive post 70s." – Sound Colour Vibration
São Paulo Underground is an electronica-laced tropicalia funhouse, a secret passage between Chicago's volatile avant garde jazz scene and Brazil's teeming creative capital.

Featuring Chicago maestro Rob Mazurek on cornet, harmonium and various effects, and São Paulo's Guilherme Granado on keyboards, synths, sampler and vocals, and Mauricio Takara on percussion, cavaquinho and electronics, SPU delivers its fourth revelatory album Beija Flors Velho E Sujo.

In its latest incarnation, SPU is a power trio and a post-modern orchestra rolled into one, marked by glistening sonic textures, seductive eletronica beats, unabashedly beautiful melodies, an expansive improvisational palette and fiercely gleeful interplay. A potent program of new material honed during a 2012 North American tour, Beija Flors Velho E Sujo captures an ensemble hitting a fierce creative stride.

Ecstatic, roiling and utterly unpredictable, the music flows from three distinct musical personalities united by "the idea of infinite love, the idea of breaking through to the other side through sonic power and beauty," says Mazurek, a veteran disrupter of genre conventions. Rather than stretching out for extended improvisational flights, the trio delivers a series of brief blasts, each brimming with musical incident.

Dauntless sonic explorers, SPU continues a relentless search into the mysteries of sound. "Sound has such potential, and needs to be split, cracked, slammed, caressed, kissed, sunk, buried, catapulted into new dimensions in order to begin a dialogue of the universes," Mazurek observes.
---

TRÊS CABEÇAS LOUCURAS
RUNE 325

"Limitless in its possibilities." – Rolling Stone
"Post digital, post industrial psychedelia." – The Wire
"A modern approach to Brazil's tropicalia, that takes into account advances in sound manipulation and engineering. It is street music from the Brazilian subterranean avant-garde and it is confusingly wonderful." - All About Jazz
"Rob Mazurek returns to Brazil and floats his cool blue cornet over a spellbinding collage of saturated textures, syncopated rhythms and sundry electronics." - Time Out Chicago – Voted one of the Top 10 jazz albums of the year – 2011
"...the results are a mix of electric jazz, minimalism, and Brazilian samba, bossa nova, and street sounds. Percolating textures, crackling cornet (smacking of Miles Davis and Don Cherry), and surreal electronica process local riffs and rhythms for music that dances and frolics with all the joy and cheery chaos of a São Paulo street fair." – Icon
"São Paulo Underground are one mind blowing group and the trio's stature has risen yet another level with the release of their latest full length... This album is huge and one that I think will grab the ears of many different types of people. Tropicalia never sounded this modern and alive post 70s." – Sound Colour Vibration
Tres Cabeças Loucuras is the third album by Sao Paulo Underground. It's a very catchy, jazz + electronics album filled with sunny melodies, beats, noise, sounds and songs. The group formed around Rob Mazurek (cornet and electronics), a key player in the Chicago post rock/modern jazz scene, who has played with everyone from his own Exploding Star Orchestra and Chicago Underground projects to performing and/or recording with Tortoise, Jim O'Rourke, Pharoah Sanders, and many more and whose work reflects a keen interest in modern, interesting music, both from the jazz and rock traditions. He spent several years living in the Brazil and developing a music that reflected those experiences. While in Brazil he met the co-founder of the group, Mauricio Takara (drums, percussion, cavaquinho (the 'miniature guitar' of Brazil), electronics). Performing and recording their first album as a duo, the gravity of the ensemble pulled in two other musicians: Guilherme Granado (keyboards, electronics, samplers) and Richard Ribeiro (drums).
Each of the musicians is an example of the new vanguard in music; Rob in contemporary jazz and forward-looking rock and the 3 Brazilian musicians in updating and modernizing Brazilian musical forms. São Paulo Underground embodies a fascinating musical mixture of Sun Ra-esque cosmic noise and rhythms and phrasing from samba, maracatu, rock and free jazz traditions. The album has a huge, modern, laptop-laden, psychedelic sound which launches Brazil's "Tropicalia' into a new, heavily electronic millennia. One of it's charms is that it is very clear and direct and accessible, but it's also utterly filled with sound! This is the rare, ground-breaking effort that can be absorbed and enjoyed effortlessly; it's just a corker!
This album is also available in a very high-quality vinyl lp version that includes a download coupon for the digital version of the music. Limited edition, one time-only pressing of 500 copies!