We are happy to announce that we have a nice hotel for the festival that is giving a very special rate to attendees of Cuneifest, Cuneiform Records' two-day avant garde music festival label showcase in Baltimore.


The Mount Vernon Hotel
24 West Franklin Street
Baltimore, Maryland 21201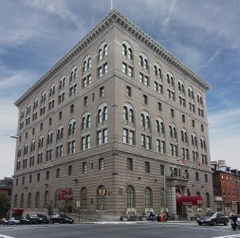 Phone:
410.727.2000
Fax:
410.576.9300
Please ask for the
special Cuneifest group rate
which is good for single or double occupancy room and includes breakfast and free wifi (parking is an addtional charge).
The historic Mount Vernon is only a few blocks from An Die Musik, which is where the Jazz Day part of the festival will be held on Sunday, November 20, 2011 and an easy cab-ride to Orion Sound Studios, where the Rock Day Portion festival will be held on Saturday, November 19, 2011.
It is also very close to all the activities of downtown Baltimore.
If you are coming to the festival from out of town and wish to stay a little longer to see Baltimore, the management has kindly offered to extend the special rates to anyone for up to 3 days before or after the festival.
To get the reduced rate, please call the hotel, mention that you are an attendee of Cuneifest, and ask to receive the special rate.
If you wish to book via email, please send your inquiry to the general manager, Mr. Christopher Snyder, and he will arrange all the details. He can be reached at:
csnyder@mountvernonbaltimore.com