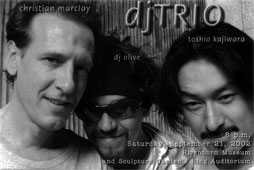 Start off by dispelling any outmoded notions about taking things at face value – sometimes a DJ is not just a DJ, a record is not a record, and a turntable is more than a record player. These are the basic tenets with which to enter the world of Christian Marclay's djTRIO, especially in the case of their live recordings.
World-renowned multi-media artist Christian Marclay may be best known these days for his globally embraced film collage piece "The Clock," but he began by redefining the roles of "musician," "DJ," and even "artist" itself. Since the late '70s, Marclay has created art by masterfully mistreating both vinyl and phonographic equipment, using them both in a manner more consistent with the way an abstract sculptor employs raw materials in the service of a larger vision. He was one of the earliest musicians to make an art form out of the turntable, using the device as a tool to make surprising juxtapositions. Sometimes these sonic journeys utilizing a turntable as a sextant have been in-the-moment experiences and sometimes they've been captured for posterity, but this album happens to be both. The four untitled tracks on the album (with a fifth track available as part of the free download included with the purchase) are an aural document of a September 21, 2002 performance at Washington D.C.'s Hirshhorn Museum, in which Marclay was accompanied by two fellow travelers, Toshio Kajiwara and DJ Olive. Together, the three turntablists turned the museum's auditorium into a combination laboratory/playground/dreamscape, in which the three men manipulated mixers, decks, and vinyl to create a sometimes funny, sometimes fearsome, endlessly exploratory kind of collective audio hallucination.
Through all manner of electronic and manual machinations, Marclay, Kajiwara, and Olive move through a dizzying array of moods and modes over the course of these five improvisations, fashioning a constantly mutating, consistently surprising field of sounds that's nevertheless strikingly seamless. Snatches of music dart in and out, disembodied-sounding voices drift by, artfully modulated drones hum and throb, and a multi-colored musical terrarium of oddly shaped, strangely fascinating creatures is conjured into being, substituting wobbles, warbles, creaks, and crashes for flesh and bone.
For the lucky few that managed to catch the one-of-a-kind event in person, the Hirshhorn performance must have been among the most mind-altering experiences one can have without the aid of illegal substances. Not only did Marclay bring his decades of experience as an underground experimentalist and conceptual avant-gardist to the table, the evening was also informed by Kajiwara and Olive's background as sound artists strongly associated with New York City's adventurous "illbient" DJ scene of the '90s. As a threesome, they erected a sonic sculpture that bore each artist's fingerprints but represented a collaborative creative effort.
"At various moments, the mix suggested nature sounds, urban cacophony, 12-tone compositions and the tuning of radio dial." – Washington Post
"An archeological excavation where whirlpool scratches, microtones and samples of thrift store-mined cheese fly around like poltergeists released from a tomb." – XLR8R
"Some amazing, static-riddled alien music." – Dusted