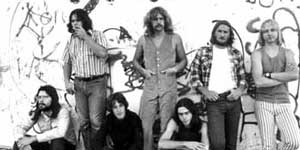 This album compiles and releases for the very first time all of the studio recordings (as well as two live recordings) made by guitarist and composer Kerry Livgren with the 2nd edition of Kansas, a seven-piece band that immediately preceded the formation of the lineup of the 3rd edition of the band, the band that the world knows as Kansas!

These recordings present a different and fascinating contrast to the music that Kerry would develop and release upon the world with Kansas just a couple of years later. Yet, as composer of all the tracks here, they still have his obvious imprint. In fact, two of the songs here would later reappear in different versions on Kansas' albums; Belexes would show up on the band's self-titled debut album, while Incomudro would appear on their 2nd album, Song For America.
With dual keyboards (one of whom doubled on reeds) and an electric saxist/flautist featured in addition to the more standard rock instrumentation, the sound is obviously influenced by jazz/rock pioneers as well as early progressive rock bands such as Van Der Graaf Generator and King Crimson. Early Recordings From Kansas 1971-73 is an exciting archival release of dark and exploratory early American progressive rock. The fact that these musicians were not able to find success while making this adventurous music in the heartland of agricultural America over 30 years ago should not be a surprise, but the fact that the tapes have survived and are able to finally be presented to the world in an authorized form will give fans of Kansas as well as all fans of early progressive rock a very pleasant surprise.
These recordings have been licensed from, and released with the full consent and agreement of all the musicians. Kerry Livgren has returned to the original tapes and worked on all tracks in his studio to present this material in the best possible light. He also contributed liner notes and provided archival photographs.