The 12th annual Sonic Circuits Festival of Experimental Music
presents 50 different acts
each day and evening
SEPTEMBER 28-30 2012 at the
Atlas Performing Arts Center in Washington, DC
Washington DC's area promoter for experimental music, Sonic Circuits, presents its 12th annual festival. Sonic Circuits seeks to expose audiences to cutting edge contemporary music that defies genres, and offer artists new platforms to present their music and opportunities to network and collaborate with artists from around the world.
_
Three Cuneiform Records artists will perform at
SONIC CIRCUITS 2012
JANEL AND ANTHONY


ERGO


ALEC K. REDFEARN
and the EYESORES

SEPTEMBER 28 - 7pm
Atlas Performing Arts Center
Lang Theater

performing as part of the
Evening Program
Diktat
Janel & Anthony
David Behrman ensemble
Mia Zabelka


SEPTEMBER 29 - 7pm
Atlas Performing Arts Center
Lang Theater

performing as part of the
Evening Program
Catoctin
Kruingtjsen & other Super Hits
Ergo
Otomo Yoshihide
Musique Noir
(Chris Cutler & David Thomas)

SEPTEMBER 30 - 7pm
Atlas Performing Arts Center
Lang Theater

performing as part of the

Evening Program


STYLUS!BLACK!FACTORY!

Alec Redfearn & the Eyesores

Isabelle Duthoit & Franz Hautzinger & Zsolt Sores

Glenn Branca Ensemble

------

Janel and Anthony's
new album on Cuneiform:
Where Is Home

------

Ergo's
new album on Cuneiform:
If Not Inertia

------

Alec K. Redfearn and the Eyesores'
new album on Cuneiform:
Sister Death

"Big Sur"

(mp3)

"Sorrows of the Moon"

(mp3)

"Unawake"

(mp3)
PRESS & RADIO
If you would like to request promo materials for potential review/airplay
or would like to set up an interview with an artist, please contact:

Joyce, Director of Publicity & Promotion
Cuneiform Records
joyce@cuneiformrecords.com
tel. 301-589-8894
p.o. box 8427, silver spring, md 20907
[washington, d.c.]
****************
| | |
| --- | --- |
| | |
Janel & Anthony :: Where Is Home
Cuneiform Rune 338, CD (jewel case) / LP,
Genre: Post-Jazz / Experimental Rock / Ambient / Electronic / 21st C. Global
Release Date: May 22, 2012
LISTEN/DOWNLOAD:

"Big Sur" (mp3)

"Janel and Anthony are an important step in the evolution of music. They both exist on so many levels, each piece is like a hundred doors opening up!"
- Jimmy Chamberlin (Smashing Pumpkins)
"Janel & Anthony - guitars and 'cello respectively - play a haunting and humbly virtuosic form of music wherein the elements of electronics, looping, and lo-fi timbres live both in intimacy and in majesty in the same house as acoustic instruments and folk/blues-inspired melodies. As such, it is both timely and timeless, drenched as it is in intoxicating atmosphere; wan, quiet voices submitting to waves of sonic drama. Who could possibly resist it?"
- Nels Cline (Wilco, Nels Cline Singers)

Janel and Anthony are a Washington DC based instrumental duo whose elegant experimental music has gained the attention of some of the world's most important improvisers and musicians, and captivated live audiences (and NPR and BBC listeners) locally and abroad. For Where Is Home, their second album and first release on Cuneiform, the duo have created a lush, orchestral work investigating the treacherous emotional terrain at the hyper-mobile heart of 21st century America. Drawing on everything from Hindustani ragas and surf rock licks to Appalachian laments and post-bop harmonies, the album alternates between intricately lapidary, electro-acoustic soundscapes and brief improvised dialogues. Transcending music genre as well as geographic locale, Where Is Home is rooted equally in the 21st century's global village and in Washington's vanished past.

Janel and Anthony is the collaborative venture of two of the fastest-rising stars in DC's burgeoning experimental music scene, Anthony Pirog, an omnivorous guitarist, and Janel Leppin, a conservatory trained cellist steeped in North Indian and Persian classical music, free improvisation and jazz. They began performing as a duo in 2005, and in 2006, they recorded and self-released an eponymous album which sold thousands of copies at countless shows they've played since. Their new album, Where is Home, was recorded over the past several years during an exhilarating and exhausting period for the two professional musicians. An ethereal instrumental song cycle soaked in the apprehension and thrill of wanderlust, Where Is Home in an astonishing creation, born in a studio that served as spiritual heart, home, and only fixed locale during 3 years of constant touring, travel to distant locales for musical collaborations, and multiple moves. While exploring themes of restlessness, homesickness and feelings of disorientation, the music itself is deft and focused—a vivid, dynamic offering that shimmers with consummate professionalism and a bond shared since adolescence.

While Janel and Anthony's music is informed by the intense attachment to ancestral land and intimate knowledge of the local landscape, there's nothing parochial about their expression. Their music is global in its sonic, instrumental and emotional reach, sharing the inclusive spirit of jazz and 21st century classical music. Pirog's "Big Sur" perfectly captures their expansive musical vision. Featuring Leppin on bowed and pizzicato cello, loops, a vintage Prophet 5 analog synthesizer, and Saarang Maestro Dx (a digital tanpura, or long-neck North Indian lute); and Pirog on electric and acoustic guitars, electric sitar, bells and loops; Where Is Home's opening track is a high energy excursion, marked by soaring solos full of wonder. Inspired by the many places they'd visited and lived, the album is a lavishly detailed musical journey, by turns ravishing and harrowing. Themes of home ("A Viennesian Life") give way to those of travel, in a panorama that spans from "Big Sur" to "'Cross the Williamsburg Bridge".

Janel and Anthony's budding development as artists mirrors the recent emergence of DC - long a political powerhouse - as an artistic, musical, and technological center of global importance. DC's roiling underground scene boasts a global array of artists who are creating new sounds unconfined by genre conventions. While rooted in DC, they also experience the peripatetic lifestyle often required by a life in music. Pirog notes that at the most fundamental level Where Is Home reflects their gypsy existence in recent years. "The music on this album was inspired by the many places we've visited and lived. In the course of three years we moved at least 10 times." But DC has always been a magnet for people - and music - from around the globe who are on the move. "The Washington scene has been ideal, because we're both interested in so many different types of music," Pirog says. "We're able to play in all the different scenes, jazz, roots, surf, rockabilly, Persian, experimental. And then we bring all of that into Janel and Anthony."

Frequent performers on DC's live music scene, Janel and Anthony will celebrate the release of Where is Home with multiple shows both near and afar. Besides touring in the US, the duo is planning shows in Europe and elsewhere abroad.
TO DOWNLOAD A PDF OF THE EXTENDED PRESS RELEASE/BIO, click HERE
For more information on Janel & Anthony, see:
www.janelandanthony.com - www.facebook.com/janelandanthony
____________
Ergo :: If Not Inertia
Cuneiform Rune 339, CD (jewel case),
Genre: Jazz / Electronic / Experimental
Release Date: February 14, 2012
LISTEN/DOWNLOAD:

"Sorrows of the Moon" [feat. Mary Halvorson] (mp3)
WATCH: The Making of IF NOT INERTIA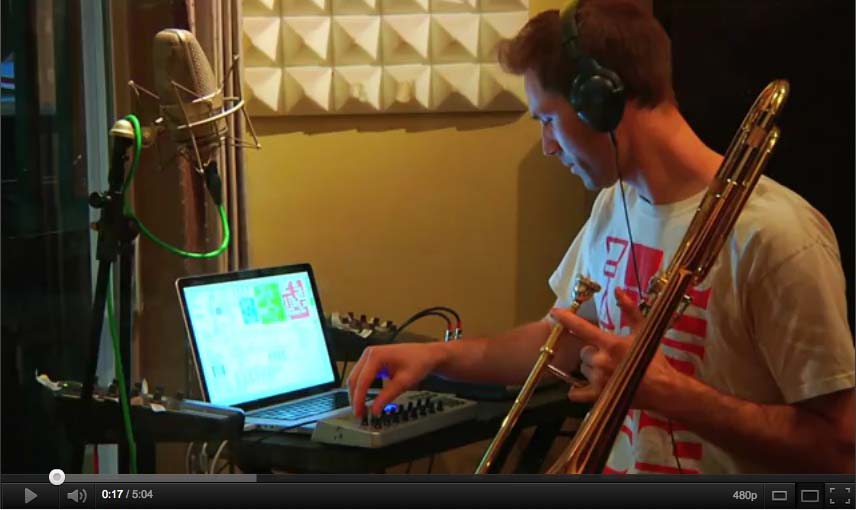 Alec K. Redfearn and the Eyesores :: Sister Death
Cuneiform Rune 344, CD (jewel case),
Genre: Rock / Avant-Rock / Visionary Americana / Art Rock
Release Date: September 25, 2012

LISTEN/DOWNLOAD:

"Unawake" (mp3)


"This is wonderful stuff - brave and experimental, yet warmly human. Make room on your folk revival shelf for something that may be influenced by folk, but is in no way a revival." - Splendid Magazine
"The melodies are ravishing throughout - sparse and simple, solemn and uplifting. … Alec K. himself has a rich yet fragile voice, joined by equally delicious high female harmonies - classical voices with a hint of eccentric Americana. … Soaked with genuine feeling and deep spirituality… there's extraordinary depth to this music… The melodies…promise hope and celebrate fragile humans despite the darkness. Haunting, compelling, quite unique…" - Organ Magazine

Alec K. Redfearn and The Eyesores have been surprising audiences with their hypnotic, gently explosive rock music for more than a decade. Never one to follow trends, Redfearn's kaleidoscopic visions, anchored by his extraordinary accordion work and sonorous vocals, exist on the fringes of pop music, songs that are as familiar and individual as snowflakes or fingerprints. While his deep knowledge of folk, classical and world music allows him to slip effortlessly from genre to genre, more often, he creates pieces that subvert established forms to produce work of startling originality. Stomping Gypsy rhythms collide with Appalachian dirges, Kraut rock, modern minimalism, Irish fiddles, chiming German glockenspiels, and subtle multi-layered percussion, to suggest the soundtrack for a séance or a dark science fiction epic. By using an unusual mix of electric and acoustic instrumentation, including stand up bass, accordion, French horn, percussion, doumbek, organ, and electronics, The Eyesores subvert the conventions of pop music to create rock music that is at once truly visionary, and a genuinely alternative Americana.
Sister Death is Redfearn's most immediately accessible work, an album that draws people in without forsaking the musical and emotional complexity that makes his sound so compelling. Redfearn is blessed with an ability to compose music that doesn't fit easily into any known category, a farsighted artist able to push music in exciting new directions, while still remaining accessible. His accordion work is nothing short of astonishing, sounding one moment like a distortion drenched electric guitarist, the next like a mellow Balkan wedding musician. In an effort to describe Redfearn's sound, critics have compared him to artists as varied as Bertolt Brecht, Erik Satie, Faust, Steve Reich, Richard Leo Johnson, Tom Waits, Harry Partch and The Velvet Underground. Elements of those artists may resonate within his work, but they all fall short of conveying the unique and intimate beauty of his music. Redfearn's oblique lyrics are just as evocative; they illuminate the inner dance we all do when we're face to face with our most troubling emotions with an ironic humor that cuts to the heart of the human dilemma.
Sister Death, the 7th album by Alec K. Redfearn and the Eyesores, explores the mysteries of life, death, love, loss, creation, and destruction, subjects that have informed Redfearn's songwriting since the early 90s. "The title Sister Death is taken from St. Francis of Assisi's Canticle of the Sun," Redfearn explains. "The full quote is 'All praise be yours, my Lord, through Sister Death, from whose embrace no mortal can escape.' I first heard these lines chanted by nuns at my grandmother's wake in 2005. Sister Death evokes the image of a maternal, welcoming figure. Accepting the fact that everything has an end has been difficult for me, especially as I get older."
"I spent about six years writing this record and it's probably the most accessible release we've done, although my melodic obsessions and idiosyncrasies remain imbedded in the music. I spent a lot of time listening to kraut-rock, space rock and psychedelic rock for the past few years, so the songs have been built around accordion and keyboards. The biggest change in our sound is the addition of Orion Rigel Dommisse on the Acetone Top-5 Organ and vocals. She's insanely talented and has a unique singing voice."
Sister Death continues Redfearn's penchant for music that's profound, primeval and cinematic, with echoes of folk influenced melodies still drifting through the mix. "Unawake" brings to mind a Russian folk band playing an Irish lament. Redfearn's accordion dances with Don Larson's claw hammer banjo and the sprightly fiddles of Jimmy and Hanna Devine. Redfearn and Dommisse harmonize on a melody that makes the sinister lyrics sound almost playful. "Nothing can harm you if you create your own reality," Redfearn says, "but living in your own reality comes at a price." A single sustained note from an electric organ is the backdrop for the lyric of "Amplifier Hum," a peek into the bleak void of a loveless life. Dommisse and Redfearn's vocals have hints of Celtic and Arabic ornamentations. The instrumental "Black Ice" starts as a Baroque melody on accordion: Flamenco handclaps, skittering percussion, dramatic bass accents and desiccated banjo slowly transform the piece into a wild folk dance of indefinite origin. "Fire Shuffle" rides a mellow, bluesy keyboard rhythm supplied by Dommisse's organ and Chris Turner's harmonica. Halfway through the song, all hell breaks loose with an extended accordion solo from Redfearn that's processed and manipulated to sound like a psychedelic guitar freak-out. The album closer, "In The Morning," is a desolate love song, given a stark reading with Redfearn's hopeless whispered vocal, droning synthesizer and Laura Gulley's somber fiddle. Sister Death's 12 tracks include five instrumentals that range from a dissonant Balkan meets new wave dirge to subtle Arabic pulsations highlighted by delicate, wordless female vocals full of ornamentations. There are also seven conventional songs including an agonizingly poignant reading of "St. James Infirmary" that features Redfearn and his accordion and a stark, funeral bass drum. Spellbinding, and tantalizing, Sister Death is a rich, complex work that gradually reveals its musical and emotional mysteries over repeated listening.