Cuneiform Bands to Appear at
Rock In Opposition Festival - France
September 20/20/21, 2013
Carmaux, France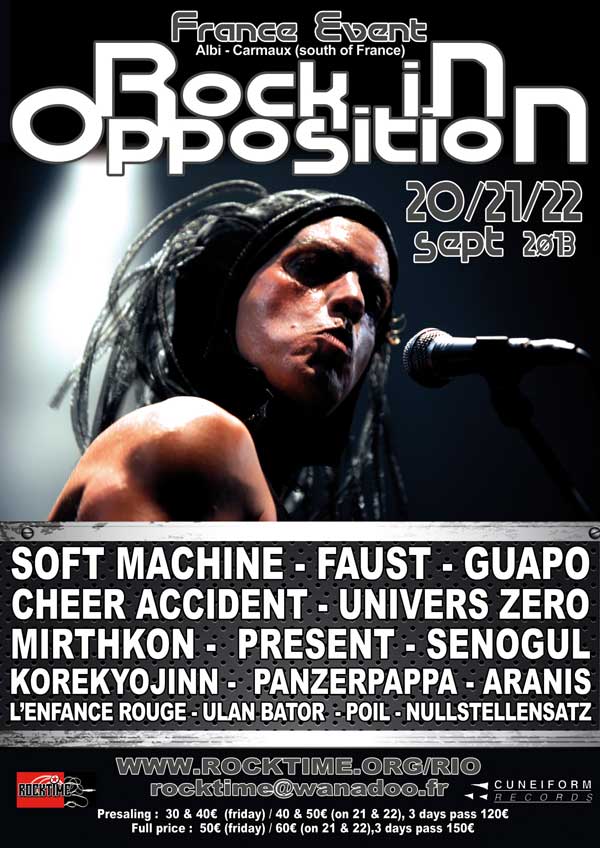 Cuneiform Records is proud to announce that 5 of its bands will be performing at the 2013 Rock in Opposition (R.I.O.) Festival in France. This three-day festival devoted to artistically uncompromised rock music celebrates "the incendiary spirit of Rock in Opposition" and draws audiences from around the world. Featuring some of the most provocative, innovative, and artistically progressive rock music created over the past 3 decades to the present day, the Rock In Opposition Festival aims to "transport the creative flames and anti-corporate-rock aesthetic of the original Rock In Opposition movement into the new millennium." This year's festival will spotlight 14 of the most adventurous bands on the current international avant-music scene. Five of these bands release music on Cuneiform Records, a US-based label devoted to cutting-edge, avant-garde music since 1984, whose catalogue features the largest number of Rock in Opposition recordings in the world.
For more information on Rock in Opposition Festival 2013, please see:
http://www.rocktime.org/rio/
For more information on Cuneiform Records, please see:
http://www.cuneiformrecords.com/

Cuneiform's bands at Rock in Opposition 2013 include:
Cheer-Accident
Guapo
Present
Soft Machine
Univers Zero
CHEER-ACCIDENT (USA)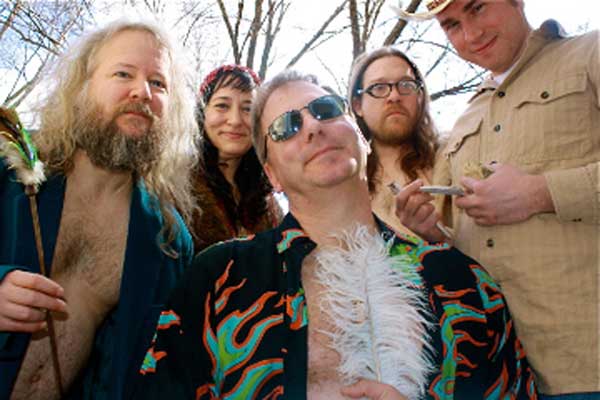 Hailing from Chicago's singularly vibrant musical scene, CHEER-ACCIDENT has been a creative, vital force in rock music for over 20 years. They constantly strive to surprise their audiences and themselves through relentless reinvention. From dreamy pop to angular art-rock, CHEER-ACCIDENT strikes a powerful balance between personalized and unique studio wizardry and the visceral excitement of a well-honed, explosive live rock band. The band is a quintet at its foundation, fronted by a singer whose powerfully emotive voice has recently led CHEER-ACCIDENT down the path of even deeper connectedness with their already-loyal audience. Presenting itself in various configurations, the band's core personnel is frequently augmented by some of Chicago's finest musicians. Their body of work is unparalleled in its ambition and originality, and their two latest releases, Fear Draws Misfortune and No Ifs, Ands or Dogs (both on Cuneiform Records), demonstrate how the band continues to improve with each passing year. Currently the band, along with Univers Zero and others, is being profiled in the feature-length film, "Romantic Warriors" (a documentary about modern progressive music, presently getting quite a bit of play on public television throughout the country.

www.cheer-accident.com - CHEER-ACCIDENT @ CuneiformRecords.com
GUAPO (UK)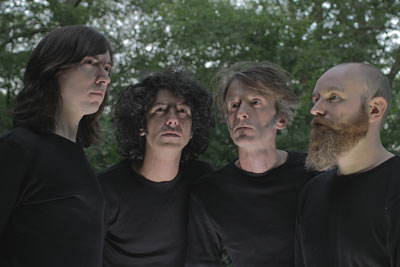 Prepare yourself for an experience that's simultaneously otherworldly and assaultive. On paper, the music of Guapo reads like a riddle – the British quartet's sound is based around ideas like controlled chaos, atonal harmony, uplifting darkness, and beautiful destruction. Nothing about the band or their work seems to adhere to even the most open-minded set of preconceptions about the meaning of umbrella terms like "rock," or "progressive," or even "experimental." But when you abandon the need to reconcile any of these concepts with each other, and simply let their music speak for itself, everything becomes radiantly clear.
Over the course of the band's 19-year history, fans and journalists alike have tossed a lot of comparisons in Guapo's direction. Magma, The Ruins, King Crimson, Univers Zero, and many more names from the "progressive" and "Rock In Opposition" realms have been bandied about as reference points, and references to the likes of The Mars Volta or Boris wouldn't be completely out of line either. And while elements of all of the above can be heard within the bold, bracing aural environs of their latest album, History Of The Visitation (Cuneiform), they only account for part of the story.

http://www.guapo.co.uk/ - Guapo @ CuneiformRecords.com
PRESENT (Belgium)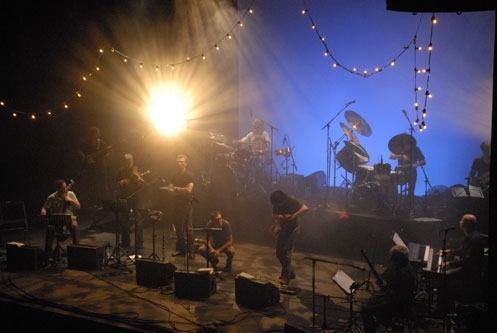 Present's music is a striking blend of heavy rock with classical and jazz influences. The compositions, penned by Roger Trigaux, utilize complex counterpoint, intricate interplay between the two guitars and bass, rapidly shifting time signatures, and a strong instrumental attack. The final result is blindingly precise works of syncopated instruments, all seemingly coming from different angles but ultimately working together as a cohesive whole. DownBeat called Present's early music "classical rock with an industrial vengeance." This remains true of its later work, which combines dark, brooding sophistication with the emotional intensity of heavy metal rock. Music Uncovered noted "Present's strong point …is the building and layering of tracks, culminating in wonderful complex polyrhythmic lines." Such layering results in music with unparalleled suspense. Trigaux admits that "I use lengthy repetition and polyrhythmic to push not only the listener but myself to a paroxysm on the intensity." In this sense -and others - Trigaux's music can be compared to that of the late Nigerian rock musician Fela Kuti, who gradually built his lengthy songs through repetition and rhythm to generate a visceral experience, and whose live performances were legendary. Also like Fela, Trigaux' music has an intellectual, thematic subtext, hidden beneath the music's physical sound.

http://www.rocktime.org/present/ - Present @ CuneiformRecords.com
____________________
SOFT MACHINE [LEGACY] (UK)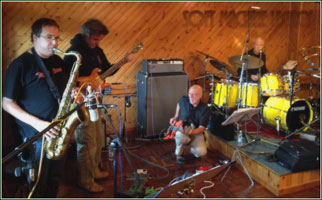 Soft Machine were an English rock band from Canterbury, named after the book The Soft Machine by William S. Burroughs. They were one of the central bands in the Canterbury scene, and helped pioneer the progressive rock genre. Cuneiform has released numerous archival recordings by Soft Machine.
Soft Machine were one of the most creative and exploratory bands of the 1960s and 70s, and their influence and the doors they opened are still being felt to this day.
From their beginnings as one of the foremost proponents of British psychedelia, playing alongside Pink Floyd at the now-legendary UFO Club in 1967 and their two huge tours of the USA with the Jimi Hendrix Experience in 1968, to their eventual end as the 'progressive rock era wound to a close in the mid/late 70s, Soft Machine was always about evolution and change.
In between those times, the band was one of the pioneers in bringing together jazz and rock, an effort manifested in their second album which, being recorded in very early 1969, placed them alongside Miles Davis as one of the first attempting to bridge the two genres. Soft Machine's approach, however, was distinct from Miles, who came to rock from jazz; Soft Machine approached jazz from the rock world. Soft Machine was also responsible for introducing such avant-garde ideas into the jazz and rock vocabulary as pre-recorded tapes used in live performance; tape loops and other studio/tape manipulations; and minimalist/Terry Riley influences.
Cuneiform has released of number of archival/historical recordings from various early formulations of Soft Machine. The band's 21st Century lineup, sometimes called Soft Machine Legacy, are released by the MoonJune label.

Soft Machine @ CuneiformRecords.com
Soft Machine Legacy @ MoonJune.com
UNIVERS ZERO (Belgium)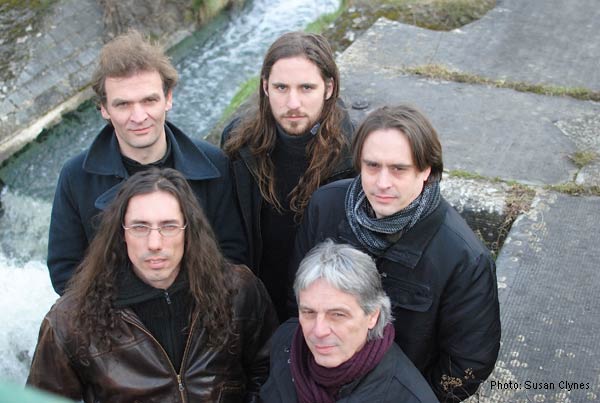 Co-founded in 1974 by Daniel Denis and Roger Trigaux and Daniel Denis, this Belgian group was one of the original /founding bands in the "Rock in Opposition" movement. The release of their first, self-named album also placed them as the founders of "Chamber Rock," a perfect hybrid of classical and rock music that would pave the way for 21st century Post-Classical as well as Post-Rock.
Led by composer, drummer and keyboardist Daniel DENIS since Trigaux left to found Present, UNIVERS ZERO's darkly beautiful compositions combine the influence of 20th Century contemporary classical music (Bartok, Stravinsky ...), Eastern European folk music, simple instrumentals from the Middle Ages and sophisticated French rock. The band uses acoustic, electric and sometimes electronic instrumentation from both the worlds of classical music and rock.
Cuneiform Records began working with Univers Zero in the 1990s. Since then, it has reissued (often in remastered version, and/or accompanied with liner notes/historical booklets) their early recordings from various European labels and released all of the bands' new recordings until the present time. Cuneiform also released two Daniel Denis solo recordings and an album by Arkham, whose name would foreshadowed UZ's long-standing facination with H.P. Lovecraft's dark literary works.

http://www.univers-zero.com/ - Univers Zero @ CuneiformRecords.com